Why Engaged?
The business
Engaged Solutions is a fast-growing and innovative Yorkshire based Digital Marketing Company. We provide Lead Generation, Call Centre services, Web Development, Web Design, Paid Search Management, Search Engine Optimisation, Private Cloud Hosting, Content Marketing, Social Media Management, and Branding. We currently work with some of the UK's largest mortgage brokers, the largest health and life Insurance brokers, secured & unsecured loan brokers, retail suppliers and lead generation companies.
Engaged Solutions offers a professional, friendly and supportive environment within an open plan office free of discriminatory practices. Ambitious and hard working, you will join a robust in-house competencies development programme aiming at encouraging all employees to reach their full potential.
Flexible working hours
We promote a healthy work-life balance by offering a mix of flexible working hours, excellent development opportunities, great holidays and fantastic working conditions
Our People
At Engaged Solutions we focus on building strong relationships with our own team as much as our external partners. We put an emphasis on working with our team to grow their skills, keeping them at the top of their game.
It's all about the training
Training is key to the success of our team. From internal training to accredited external training programmes, we encourage, and support, all our employees to build their skills – to be the best in their field.
Follow the career path
Everyone love to have a new challenge, it natural to want to change what you do. We encourage this, and have developed clearly defined career paths for our team. Want to try something new, we can help you change disciplines within the business.
Like where you work
Engaged Solutions invests in its workforce to make them the best in what they do. By doing this we have built a committed workforce with a high staff retention rate.
If you join us you can expect:
Competitive salary
Incentive and bonus schemes
Minimum 20 days holiday rising to 30 with service (depending on position)
Flexible working hours
Access to stakeholder pension scheme
Life assurance and critical illness cover available
Access to the latest gadgets
Company car/allowance (depending on position)
We Currently Looking For: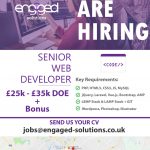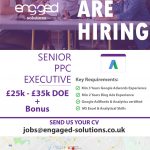 Social Media Manager
Copy Writer
Graphic Designer
Please send us your CV to jobs@engaged-solutions.co.uk.